Hi everyone,
I'm happy and incredibly proud to let you know that I was recently admitted as one of only 20 students from all over the world to the prestigious Screen Scoring (formerly called Scoring for Motion Pictures and Television) program 2016/2017 at the University of Southern California in Los Angeles. This one-year Master's degree course is widely considered to be one of the world's finest and most comprehensive film music programs, including faculty members like Christopher Young (Spiderman 3, Ghost Rider), Bruce Broughton (Silverado, Lost in Space) and Garry Schyman (Bioshock, Shadow Of Mordor).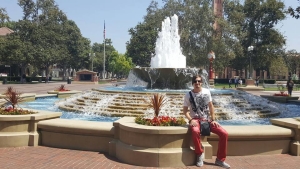 Actually, the program officially started today and I already met my fellow students. What a nice bunch of people, so much talent! It is definitly going to be an awesome year!
You can look up my profile on the USC Screen Scoring website already, and I will try to keep you updated about my adventures in LA!
Go Trojans, fight on!